Set a Default Collection Path
---
Share feedback
Thanks for sharing your feedback!
A Default Collection Path is the path that all new customers and their transactions are assigned to when they are synchronized into Credit Hound. A benefit of this is if you find a Collection Path is having the desired effect of payments being received for your invoices quicker, then you can immediately set this path as your Default at the click of a button. All new customers will be synchronized onto this default path.
How to set a Default Collection Path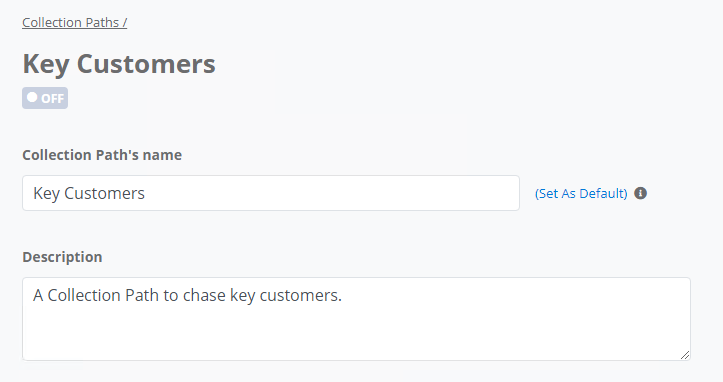 To set your Default Collection Path, go into the Collection Path that you have decided should be the new default path and click on Set As Default.
Move customers to the new Default Collection Path
When clicking Set As Default, you will be presented with a confirmation dialog. From here, you can also select whether you would like to move the customers that are on your current Default Collection Path to the new default path.
To do this, select the checkbox in the Set Default Collection Path confirmation dialog and confirm this change by clicking the Set Default button.
Set Default Collection Path Option
When moving existing customer onto the new Default Collection Path, the scheduling of emails will be impacted by ticking this checkbox. This means automatic emails will be rescheduled according to the steps defined within the new Default Collection Path.
Note: Please be aware that once you set your new Default Collection Path, it will take some time to update the Collection Path information throughout Credit Hound such as the Collection Path column in the Customer List.
---
What's Next