Email replies from your customers can be found in the Incoming Emails tab on the Communications screen.
Navigating to Communications > Incoming EmailsClicking the bell icon in the top-right menu bar will navigate to the Communications screen. The bell icon also shows the number of unread emails you have. When emails have been read, the icon count will decrease accordingly.
Communications For All Companies
If you have multiple companies in Credit Hound, the emails displayed here will be from across all companies. This means you do not have to log into each company to see the email responses from your customers.
Incoming Emails Grid
In the Communications screen, the Incoming Emails grid displays the list of emails received from your customers.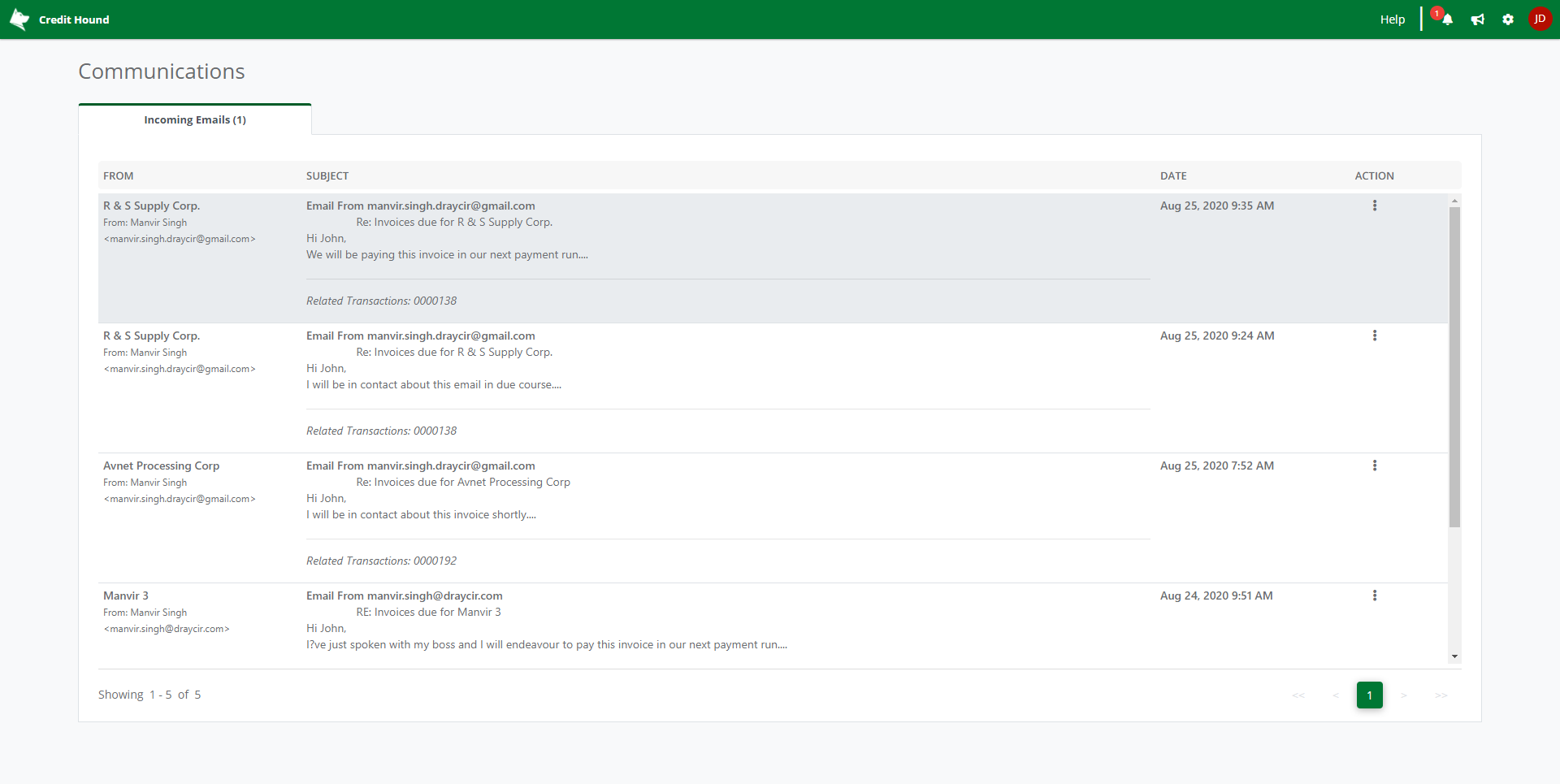 Note: Any unread emails will be displayed in a grey background color. Once read, the background color will change to white.
The columns in the grid are as follows:
| Column Name | Description |
| --- | --- |
| From | Shows the customer, name and email address that the email has come from. |
| Subject | Details the subject line and the first few lines of the email body text. |
| Date | The date the email was sent. |
| Action | Contains the actions Open which opens the details of the email and Mark as Read. Once an email has been read, the Mark as Read action is no longer available for that email. |
Related Transactions
If the email sent via Credit Hound was linked to transactions, then those related transactions will show in this section, beneath the body of the email.
Sorting
Clicking on the Date column name will sort the email list in ascending order (unless this column is already in ascending order, then it will change the sort to descending order). Clicking on the Date column name a second time will sort it in descending order (unless it is already in descending order, then it will switch it to ascending order).
The small up/down arrows icon is displayed on the current sort column. If the column is sorted in ascending order, then the arrow pointing up is highlighted black. If the column is sorted in descending order, then the column pointing down is highlighted black.
Reading Emails
To open up an email, click anywhere on the row or click on the button in the Action column and select Open . A dialog box will appear with full email details.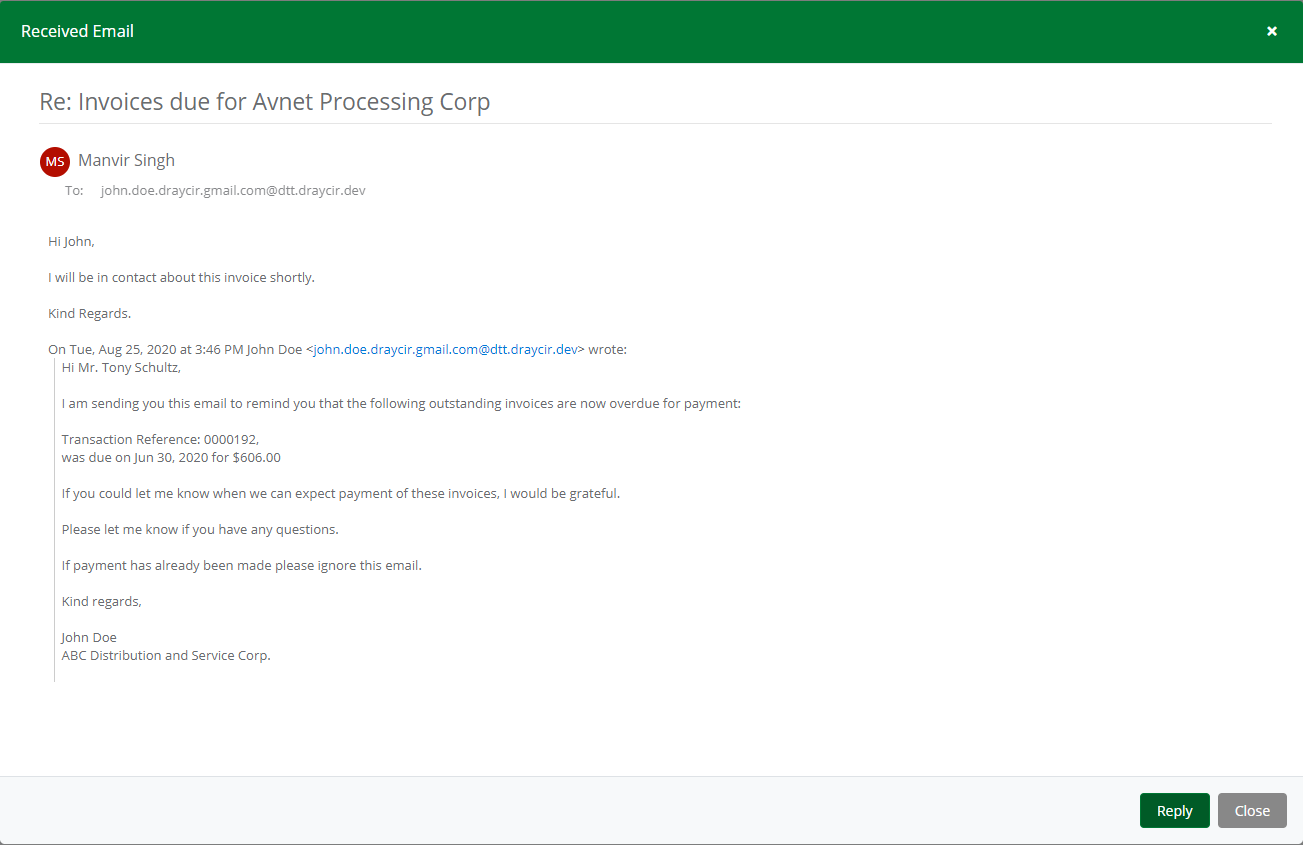 Note: These emails will also appear in the Activity View on the Customer Screen.
Replying to Emails
Reply to an email by pressing the Reply button.
The Send Email dialog box appears.
Type in your reply. You can insert fields using the Custom Fields button.
Click Send.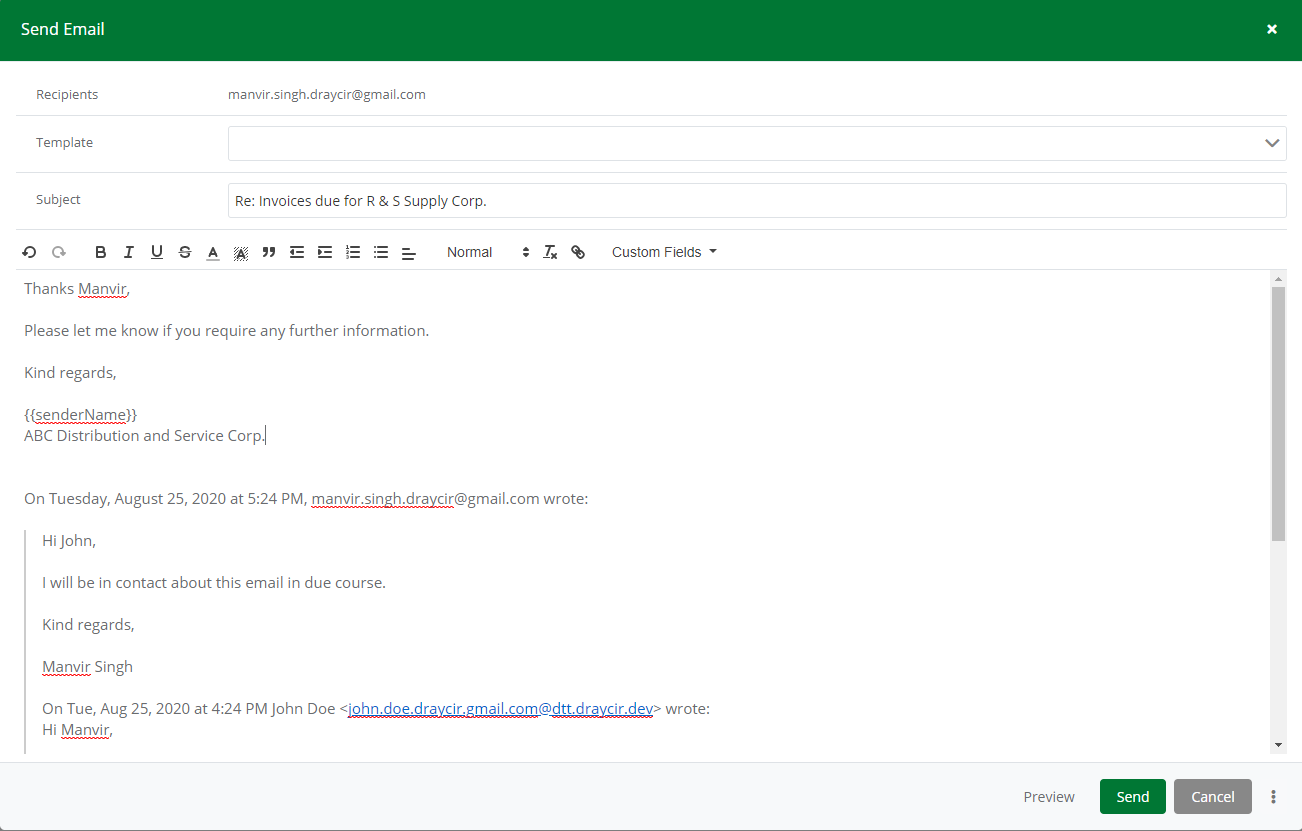 Note: If you use any Custom Fields in the reply, the Related Transactions fields, such as the Transaction Ref, will be populated with the value from the original email thread.
Was This Article Helpful?
---